Test and treat studies show high rates of HIV diagnosis, viral suppression (AIDS 2018)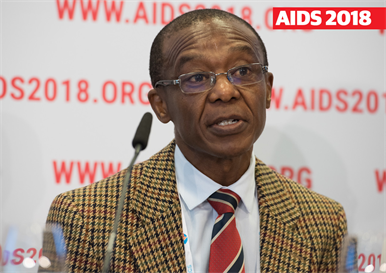 Moeketsi Joseph Makhema at AIDS 2018. ©International AIDS Society/MarcusRose.
Botswana: Ya Tsie study
A second cluster-randomised trial, in Botswana, evaluated the effect of community-wide testing and counselling, linkage to care, earlier ART initiation and enhanced male circumcision services on HIV incidence between 2013 and 2018. The Ya Tse study, or the Botswana Community Prevention Project study, randomised 30 rural or periurban communities to receive either the intervention or the standard of care (which included universal ART from mid-2016). The communities covered about 10% of the population of Botswana. Read more…
This entry was posted in AIDS 2018 website.