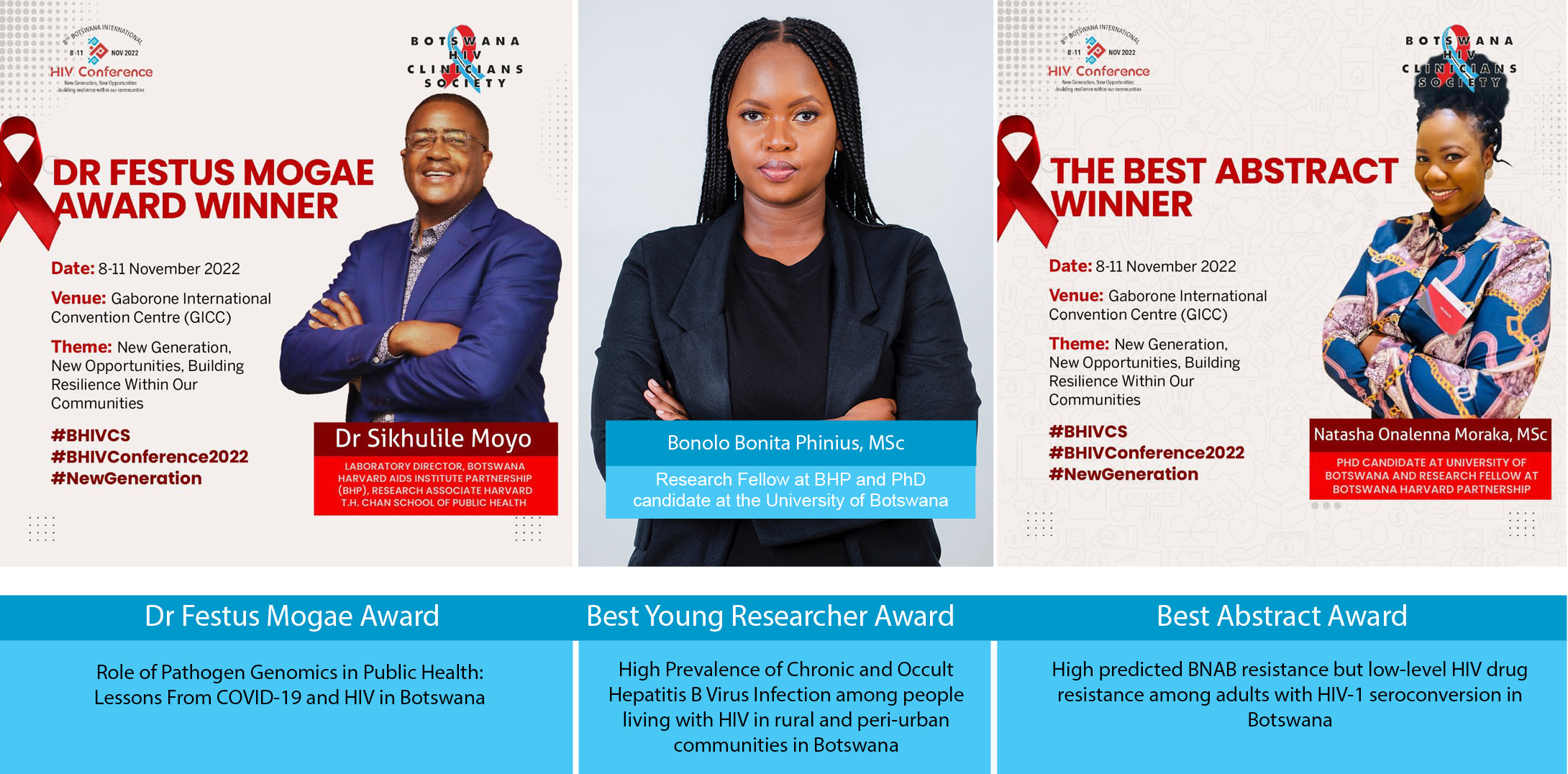 Botswana Harvard AIDS Institute Partnership (BHP) participated at the 8th Botswana International HIV Conference hosted by the Botswana HIV Clinicians Society (BHIVCS) held at Gaborone International Conference Centre (GICC) 8-11th November 2022. The Conference was held under the theme "New Generation, New Opportunities: Building resilience within our communities." BHP researchers and BHP affiliated research associates presented a total of 12 oral and poster presentations. Three of BHP researchers received prestigious awards at the event, a testament to the quality of BHP research and training.
BHPLaboratoryDirector,SikhulileMoyoreceivedtheDr Festus Mogae Award presented to the most impactful researcher. Research Fellows at BHP, Natasha Moraka and Bonolo Phinius won Best Abstract and Best Young Researcher Award respectively. The two are currently studying for their PhD's at the University of Botswana under the BHP training programme.
Dr Moyo who led the SARS-CoV-2 genomic surveillance at the BHP Laboratory presented on"The Role of Pathogen Genomics in Public Health": Genomic surveillance of SARS-CoV-2 by the BHP led to the discovery of the Omicron variant of SARS-CoV-2 by Dr Moyo and team. The Omicron and sub variants BA.4 and BA.5 have since become the most vastly circulating variants around the world. Natasha Moraka's presentation was titled "High predicted BNAB resistance but low-level HIV drug resistance among adults with HIV-1 seroconversion in Botswana" while Bonolo Phinius' presentation was titled "High Prevalence of Chronic and Occult Hepatitis B Virus infection among people living with HIV in rural peri-urban communities in Botswana."
Two of BHP Principal Investigators and Research Associates, Dr Tendani Gaolathe and Prof. Mosepele Mosepele and academicians at University of Botswana also presented at the conference. Dr Gaolathe presented on "The Updated Botswana HIV Treatment Guidelines" while Prof Mosepele Mosepele's topic was "New Research and Innovations on HIV".
BHP Chief Executive Officer, Dr Joseph Makhema moderated a panel discussion on "The future of HIV long-acting injectables in the Botswana setting", a session that provided an overview and implementation considerations of long-acting antiretroviral injectables in the Botswana setting. The session gave insights on how the rollout of the COVID-19 Vaccine Programme in Botswana may pave the way for introducing novel innovations into the Botswana healthcare system.
The panel was made up of Dr Tendani Gaolathe, BUMMHI Chief Executive Officer, Dr Ndwapi Ndwapi and another BHP Research Associate, Dr Ava Avalos. Dr Gaolathe presented on "Lessons learnt from COVID-19 Vaccines" while Dr Avalos presented on "Long Acting Injectables in HIV prevention." Dr Nwapi's presentation was on "how Botswana should successfully implement long-acting injectables into the current healthcare system".