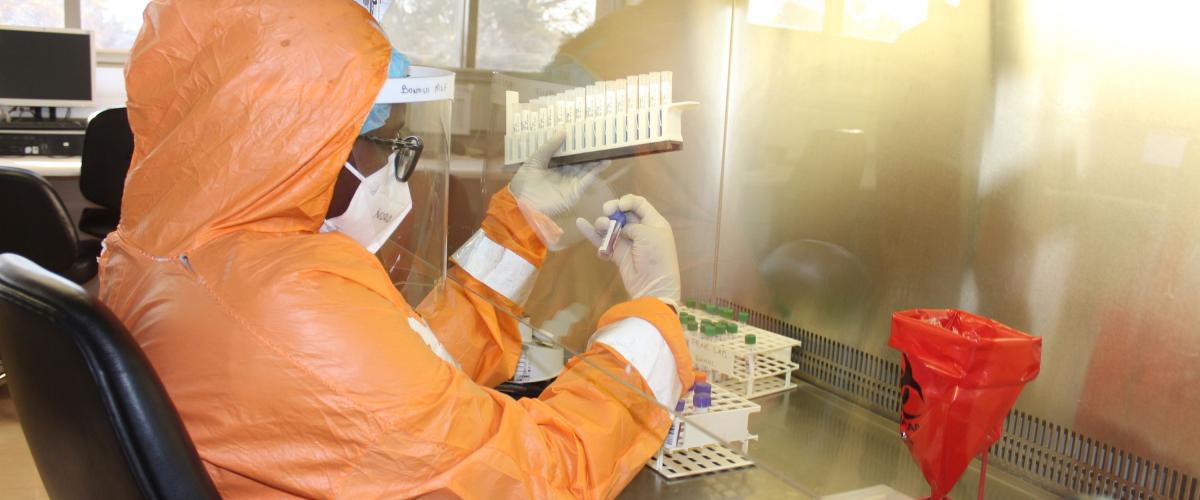 The Botswana Harvard HIV Reference Laboratory (BHHRL) is a state-of-the-art research facility located on the grounds of Princess Marina Hospital in Gaborone. The building, a three-floor, 25,000-square-foot facility, houses both laboratory and office space for the Botswana Harvard AIDS Institute Partnership (BHP).
The laboratory serves as the central facility for processing and testing of clinical specimens, for monitoring changes in the regional HIV epidemic, and for conducting BHP research studies. The laboratory is a crucial part of Botswana's HIV surveillance activities, especially as they pertain to HIV prevalence and incidence rates.
One floor of the laboratory is dedicated to high-volume routine testing of clinical specimens. The assays are fully automated and include HIV RNA PCR viral load, CD4/CD8 counts by flow cytometry, serological ELISA assays, and routine chemistry and hematology. HIV diagnostic Western blot and other STIs (HSV-2 ELISA, Chlamydia and Gonorrhea PCR) are also conducted. The remaining two floors include laboratory research facilities. Laboratory space is dedicated for sophisticated molecular research of HIV, SARS-CoV-2, and other pathogens, as well as a BL3 facility for virus isolation and culture. 
Research capacity includes PBMC isolation, freezing and storage, virus isolation and co-culture, DNA isolation, amplification, cloning and sequencing, qualitative and quantitative PCR, detuned ELISA, high- and low-resolution HLA typing, and functional immunologic assays (ELISPOT and intracellular cytokine staining). In addition to its research role, the Laboratory serves as a training facility, helping to build the professional infrastructure of Botswana by training the nation's researchers and laboratory technicians.
BHP currently houses a biobank of approximately 2 million stored samples in -80°C freezers (with additional samples in liquid nitrogen).
Clinical Laboratory 
The BHHRL supports the clinical trials conducted by the Botswana Harvard AIDS Institute Partnership through in-house capacity for tests including clinical chemistry, hematology, CD4, viral load, diagnostic DNA PCR, HPV PCR, chlamydia and gonorrhea and HIV drug resistance, and serological assays including fourth-generation HIV ELISA, hepatitis B profiles, hepatitis C antibody, syphilis RPR and TPHA, HIV-1 confirmatory assays (Geenius), incidence assays (limiting antigen, avidity, Bio-rad avidity and BED capture enzyme immunoassay), QuantiFERON TB Gold Plus assay, Cepheid Point of Care Viral load, Gene Expert TB and SARS-CoV-2 PCR/antigen test/sequencing. Several research assays are available in-house or through referral laboratories including TB (AFB, molecular, culture and drug sensitivity), cytology/histology and inflammatory cytokines.  All laboratory assays are registered in External Quality Assurance (EQA) programs.
The BHHRL has been crucial in the fight against the SARS-CoV-2 pandemic through testing and genomic surveillance. A highlight achievement for the laboratory was the discovery of the Omicron variant of SARS-CoV-2. The lab has added a number of new assays to its test menu including the acquisition and validation of automated serological assays for HIV, hepatitis, syphilis and SARS-COV-2. The lab also developed capacity to conduct SARS-CoV-2 testing at a rate of up to 800 tests per shift. BHHRL has contributed approximately 30% of the more than one million COVID-19 PCR tests conducted in Botswana, and performs the vast majority of SARS-COV-2 sequencing for the country.
Accreditations
The laboratory maintains accreditation to ISO 15189 through the Southern African Development Community Accreditation Service (SADCAS). This represents international recognition of quality and competency in all aspects of our medical laboratory services. The laboratory has also successfully added SARS-COV-2 to the accreditation scope and has received certification from the African Society for Laboratory Medicine (ASLM) under the COVID-19 Laboratory Testing Certification Program (CoLTeP).