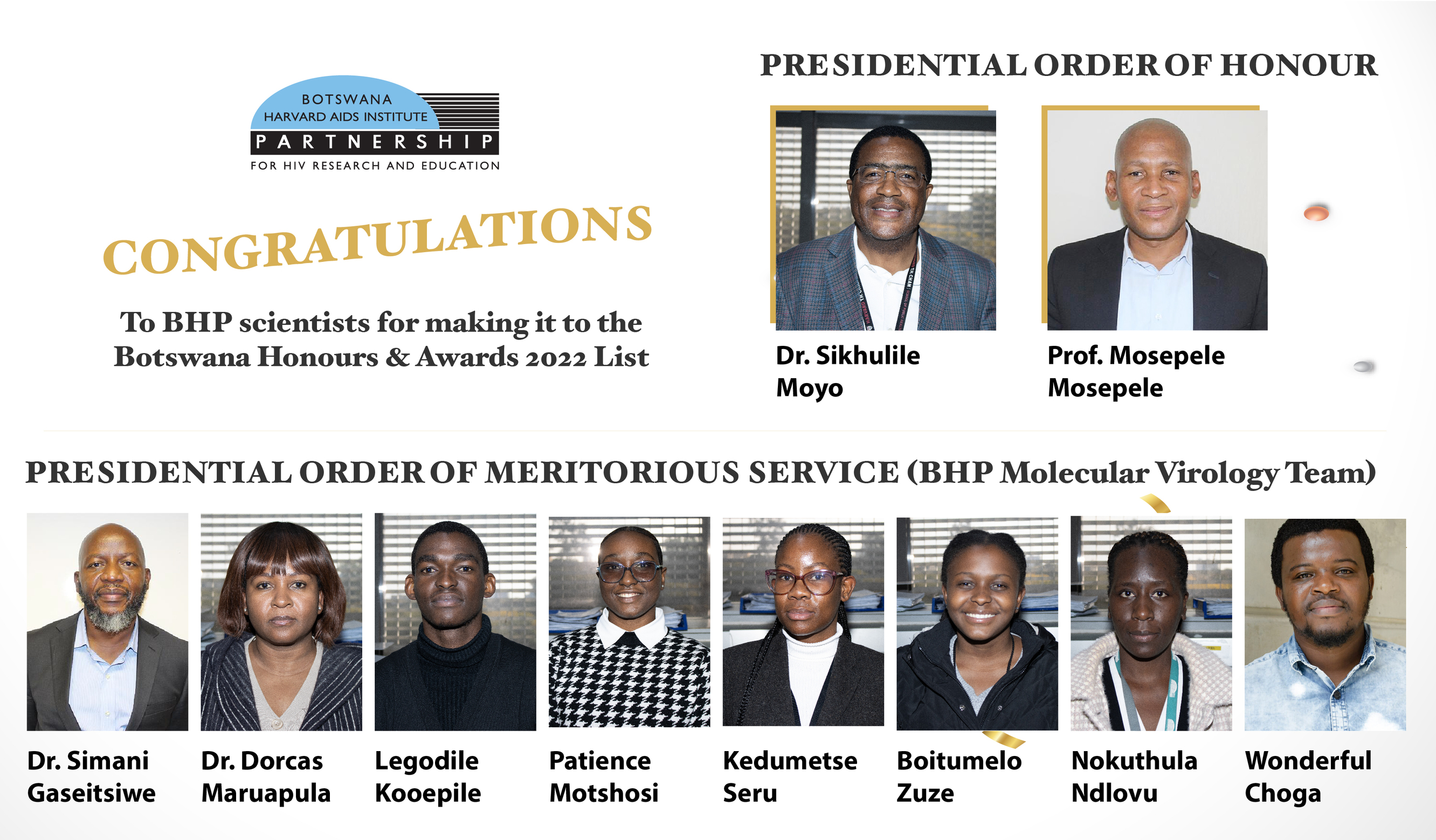 Botswana Harvard AIDS Institute Partnership (BHP) research scientist and laboratory director, Dr Sikhulile Moyo and BHP Research Associate and Professor of Medicine at the University of Botswana, Prof Mosepele Mosepele have been awarded the Presidential Order of Honour while the BHP Molecular Virology Team have been awarded the Presidential Order of Meritorious Service. Their names alongside other awardees for the Botswana Honours and Awards 2022 were published in the Government Notice No. 348 of 2023 in the Government Gazette of 30th June 2023.
Prof Mosepele and Dr Moyo were appointed to the Presidential Taskforce on COVID-19 as Deputy Coordinator and Co-Chief Scientist, respectively. Since the beginning of the COVID-19 pandemic, BHP has been contributing to the national response and working closely with the Ministry of Health in the establishment and enhancement of molecular testing capacity, SARS-C0V-2 genomic surveillance and conducting various COVID-19 related basic science research and clinical trials for therapeutic, diagnostic and effective preventative strategies. Professor Mosepele and Dr Moyo's roles included national strategic epidemic planning and response as well as leading or participating in ongoing BHP SARS-COV-2/COVID-19 research.
The BHP Molecular Virology team were at the SARS-COV-2/COVID-19 coal face participating in research while conducting SARS-CoV-2 sequencing in collaboration with the Ministry of Health (MOH), the National Health Laboratory (NHL) to augment the Government's efforts on COVID-19 response. A major scientific accomplishment for BHP in 2022 was the discovery of the OMICRON variant of SARS-CoV-2 by Dr Moyo and his team at the Botswana Harvard HIV Reference Laboratory (BHHRL).
Dr Moyo and the team are credited with the first sequencing of the OMICRON variant which later became the most dominant transmitted SARS-COV-2 variant globally. The discovery of OMICRON was a result of an unequalled Pathogen Genomic Surveillance programme at BHP which has contributed to over 5000 SARS-COV-2 whole genome sequences to the GISAID, a global science initiative that provides open access to genomic data of influenza viruses and the coronavirus responsible for the COVID-19 pandemic. By sharing the data with the world, the scientists contributed significantly to a better understanding of the virus, its dynamics thus accelerating a swift response to the pandemic. The data have informed vaccine design by pharmaceutical companies to strengthen COVID-19 vaccines to fight the new variant.
For the discovery of Omicron, Dr Moyo and his team has since received several accolades and recognition globally. He received the German Africa Awards as well as made it to the TIME Magazines' annual list of 100 Most Influential People in World in 2022.