The US Ambassador to Botswana, His Excellency Ambassador Howard A. Van Vranken visited Botswana Harvard AIDS Institute Partnership (BHP) on Wednesday 30th August 2023 to learn more about the US National Institutes of Health (NIH)'s partnership with BHP and to appreciate NIH funded research at BHP as well as the general BHP operations.
Ambassador Van Vranken was accompanied by Dr. Sophia Siddiqui, U.S. Health Attaché to South Africa and Southern Africa Regional Representative, Dr. Elana Clarke, Acting Director, Africa Region Office, Office of Global Affairs, Dr. Mai Hijazi, Director, Office of Health Systems, Bureau for Global Health, USAID, Ms. Lisa Esapa, Acting Director, CDC Botswana Country Office and Dr. Stacie Greby, Associate Director for Science, CDC Botswana Country Office.
 BHP Deputy Chief Executive Officer, Dr Gaerolwe Masheto gave an overview of the BHP while BHP Laboratory Director, Dr Sikhulile Moyo presented on BHP Research as well as the Omicron pathogenomics. The Grants and Finance Director, Dineo Thebe apprised the ambassador and his entourage on the grant portfolio from the US, NIH grants awarded to BHP. She revealed that the average funding from US Federal Government to BHP stands at 80% (NIH 54%, CDC 26%), making a revenue influx of approximately two billion pula.
The funds were mainly for key projects such as KITSO AIDS Training Program, PEPFAR Master Trainer Program, Mmabana Study which impacted WHO's global HIV Policy on PMTCT and the Botswana Combination Prevention Project which has contributed to the attainment of UNAIDS 95-95-95 goals.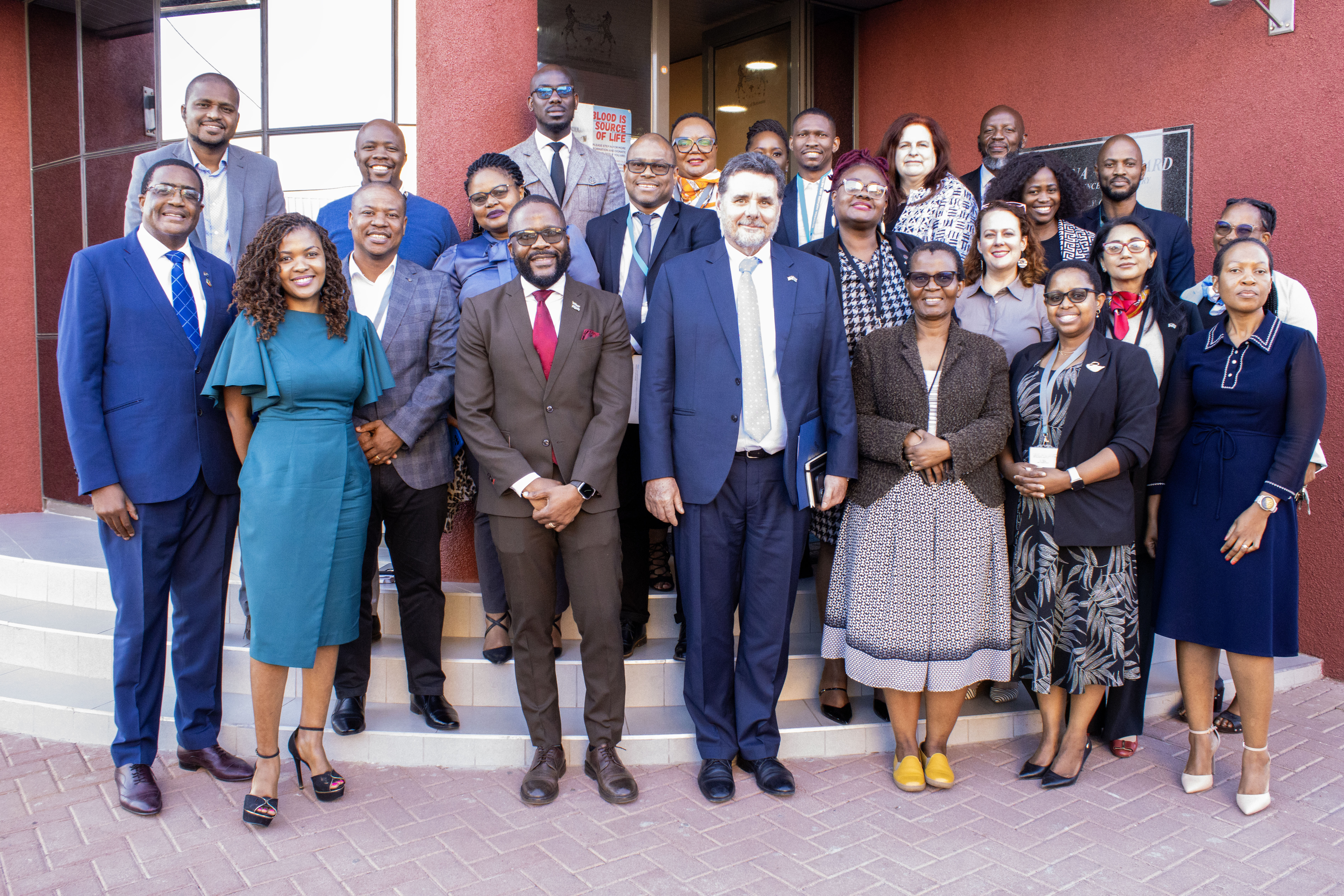 Ambassador Van Vranken expressed his appreciation for the great work that BHP does in saving humankind through its impactful research that have informed global health policies.  He promised to support BHP to continue conducting cutting-edge research with impactful discoveries that will help save human life not only in Botswana but globally.
"I would like to thank you for saving humanity through the research that you do. I am not a Doctor or scientist but I am here to assure you of my support and the continued support of the US.
The Ambassador toured the Early Infant Treatment (EIT) clinic led by the study coordinator, Dr Gbolahan Ajibola and the Clinical Trials Unit led by Dr Unoda Chakalisa, the Clinical Research Site Coordinator for ACTG studies. They also toured the Botswana Harvard HIV Reference Laboratory (BHHRL) where the SARS-CoV-2 Omicron variant was first discovered, with the tour lead by Laboratory Operations Manager, Terence Mohammed. The Ambassador Van Vranken commended BHP for the Omicron discovery and having the humanity to alert the world of the danger, thereby enhancing global health.
Dr Catherine Koofhethile who is an Early Career Research and Principal Investigator for Cure Research at BHP and PhD Fellow, Bonolo Phinius presented elevator pitches to the Ambassador. Dr Koofhethile's research is on HIV cure-related research and her work involves characterizing HIV reservoirs in adolescents from Botswana who initiated treatment early in life and have been on ART for nearly two decades. She stated that the research is important for advancing HIV cure research.
Bonolo Phinius' elevator pitch was about her PhD research work titled "Hepatitis B virus prevalence and diversity among people with HIV in rural and peri-urban communities in Botswana." She explained that the project is motivated by the fact that hepatitis B virus (HBV) in the leading cause of liver disease and associated deaths world-wide, noting that Botswana does not have nationally representative HBV data. She clarified that this is a major hindrance to hepatitis B elimination as per the WHO aspirations.